As of July 31, 2010, National Municipal Research is no longer doing business. Natalie Cohen has moved to Wells Fargo Securities, LLC. She will be publishing regularly about municipal finance and can be reached at: Natalie.Cohen@WellsFargo.com.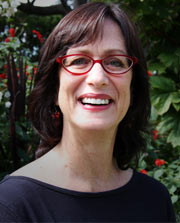 Natalie R. Cohen believes that integrity, ingenuity, creativity, independence of thought and sheer hard work will help pull our economy out of its chaos. She brings this philosophy to National Municipal Research, Inc. which she recently founded. A seasoned analyst, writer and deal transactor, she has worked at New York City OMB, a rating agency, several bond insurers and is known for her published work on municipal bond defaults. She is a frequent speaker at industry events and has offered training sessions to industry groups as well as in-house analyst training.
Prior to starting National Municipal Research, Inc. Ms. Cohen was a Managing Director at Financial Security Assurance (FSA), a bond insurance company. At FSA she was on the Executive Credit Committee and was responsible for reviewing virtually all transactions in the public finance department. Her previous experience included deal-making for financial guarantee insurance of high yield public securities and private placements in the U.S. at American Capital Access and Enhance Reinsurance/Asset Guaranty (now Radian).
She has an MPA from New York University's Wagner School of Public Service and a BA from Hampshire College in Amherst, Massachusetts. She is a member of the Government Accounting Standards Advisory Council, the Municipal Analysts Group of New York and a former Board member and co-chair of the education committee of the National Federation of Municipal Analysts. Ms. Cohen lives in Manhattan with her husband and two teenage boys. She enjoys bicycling, swimming, has an active yoga practice and is learning to stand on her head.
Publications include:
Municipal Finance Journal:
"When Market Risk Becomes a Credit Factor: Short-Term Markets and Government's Response"
Brookings Institution White Paper:
"Business Location Decision-Making and the Cities"
American City and County Magazine:

"Shielding Local Government: A look at Bond Insurance"
"No G.O.: Project Financing Without the Taxpayer Burden"
"Taxing Issues Arise from Deregulation of Electric Utilities"

Government Finance Review:
"White Elephants: Why Some Large Projects Fail"
Public Management:
"Front Office/Back Office: Relocation Frenzy"